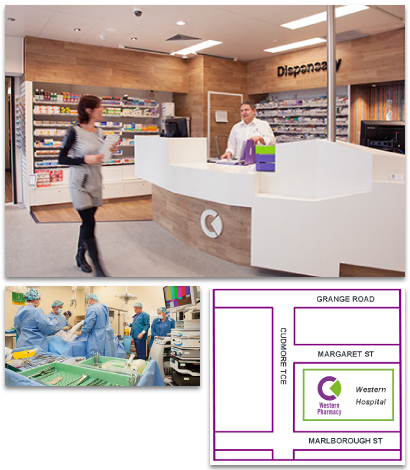 Western Hospital Pharmacy at Western Hospital
Since it's official opening in 1974, Western Hospital has provided surgical and medical acute care to the residents of the Western suburbs. The hospital is now owned by a group of dedicated health care professionals who, under their stewardship, have guaranteed the future of the hospital for the residents that it serves.
Western's future depends upon patients accessing and utilising the many and varied services, and can accommodates medical patients with a variety of conditions. Patients can be referred to Western Hospital by their GP or one of the many visiting surgical / medical specialists that consult and operate at Western Hospital.
Clinics
Western Hospital has a range of specialist clinics which include:
Orthopaedics
Cardiology
Ophthalmology
Vascular
GP Practice
Breast Clinic
Bariatric Surgery
Oncology and Haematology
General Surgery
Gynaecology
Gastroenterology
Dermatology
Bensons Radiology
Clinpath Pathology
Community Pharmacy
In November, 2012 Western Hospital Pharmacy was opened to deliver specialised services linked to the medical specialties of the Hospital, the co-located GP Clinic, and the local community, dispensing prescriptions, Pharmacist Only medications and other products.
The Pharmacy is open to the public and is conveniently located on the Ground Floor of Western Hospital. There is direct access from the Western Sports Ortho & GP Practice, and free offstreet parking available. There is a designated "10 Minute Parking" zone at the front door.
We are focussed on delivering innovative and highly professional customer care and offer a range of services, including:
Professional advice on wound care, pain relievers, diabetic care and heart healthA
Accreditted Home Medicines Review (HMR) Pharmacists
Blood Pressure Monitoring
Dose Administration Aids (webster/medico packing)
National Diabetes Support Service (NDSS)
Stockist of CoaguChek® personal INR Monitors
Opening Hours:
Monday – Friday 9.00am – 5.00pm
Saturday 9.00am – 12.00 midday
Closed Sundays and Public Holidays
Contact us on:
Phone: (08) 8440 7080 Fax: (08) 8159 1262
email: westernpharmacy@cpie.com.au
Hospital Pharmacy
Since 2004, CPIE has provided hospital pharmacy services to Western Hospital, offering a range of medicines, services and support to inpatients, day surgery, oncology and specialty clinic patients and clinicians.
Our team of pharmacists are available to all patients and healthcare professionals to provide up to date information on medications. They are happy to assist with medication organisers, Safety Net records, Home Medicines Reviews, and medication management.
Contact us on:
Phone: (08) 8440 7080 Fax: (08) 8353 4051
email: westernpharmacy@cpie.com.au